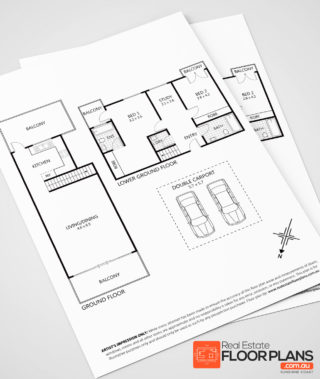 We know floor plans come in all shapes and sizes, and while some agents are happy to use a scanned copy of the builder's construction plans, most agents can understand the value of providing a clean, concise and eye-catching floor plan with their real estate listings. This is why we offer our low-cost floor plan redraw service.
Who Can Benefit From Our Floor Plan Redraw Service?
You Have Builder's Plans

Do you have a printed copy or PDF copy of the builder's plans for the house you are listing? This is a great question to start asking vendors, as especially if they are the original owners – they most likely do, and it will save you money on your real estate floor plan!

While tradespeople are able to read them, there is usually a quite a lot going on that can make it hard (and messy) for potential buyers. Not to mention how they look uploaded if they are scanned copies of old plans!

You Have Sketched the House Yourself

If you live outside of the Gympie, Sunshine Coast and North Brisbane area, one way that we are still able to help create high quality floor plans for you, is by you sketching the house yourself. It is not as hard as you think, and after you have done one or two – it actually doesn't take as long as you may think.
A Redraw Saves You Money!
If you have a look at our coloured floor plan price list, you will notice that we have an on-site measure fee. If you provide the builder's plan or accurate sketch, this is not applicable, and if you are after one of our black and white floor plans, then it is just a flat $50 for a floor plan redraw! Saving you a minimum of $49.
Interested in finding out more? Contact Us today and we would love to help!